05/31/17: The 2017 Uptown Arts Stroll Kicks Off @ The United Palace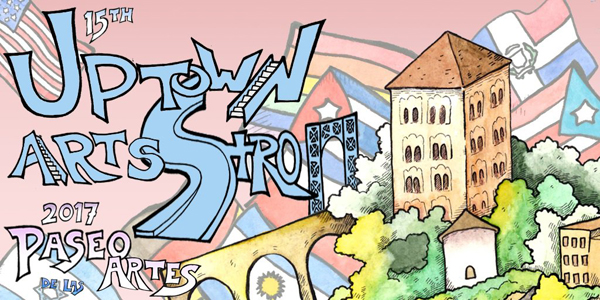 Once again it's on. The month long celebration of the arts in Uptown Manhattan will kick off on May 31, 2017 at the venerable United Palace (4140 BWAY @ 175th Street). For the past 14 years, local artists and leaders have partnered to build a stronger community through the arts in Northern Manhattan. The Uptown Arts Stroll is an annual showcase for this effort, giving a voice to an arts community that is growing in the often overlooked and quickly gentrifying neighborhoods of West Harlem, Washington Heights and Inwood.
The 2017 Uptown Arts Stroll will feature open studios, art exhibitions, concerts, literary events, and performances during the month of June, throughout Northern Manhattan from West 135th Street to West 220th Street. Click below for more info and if you want to participate in the festivities. Note: If you make the print deadline of Monday 1 May 2017 your information will also appear in the printed Uptown Arts Stroll Guide that will be distributed by The Manhattan Times and NoMAA citywide.
For more info: http://artstroll.com/
Related: And The Winner Is…
We invite you to subscribe to the weekly Uptown Love newsletter, like our Facebook page and follow us on Twitter & Instagram or e-mail us at UptownCollective@gmail.com.